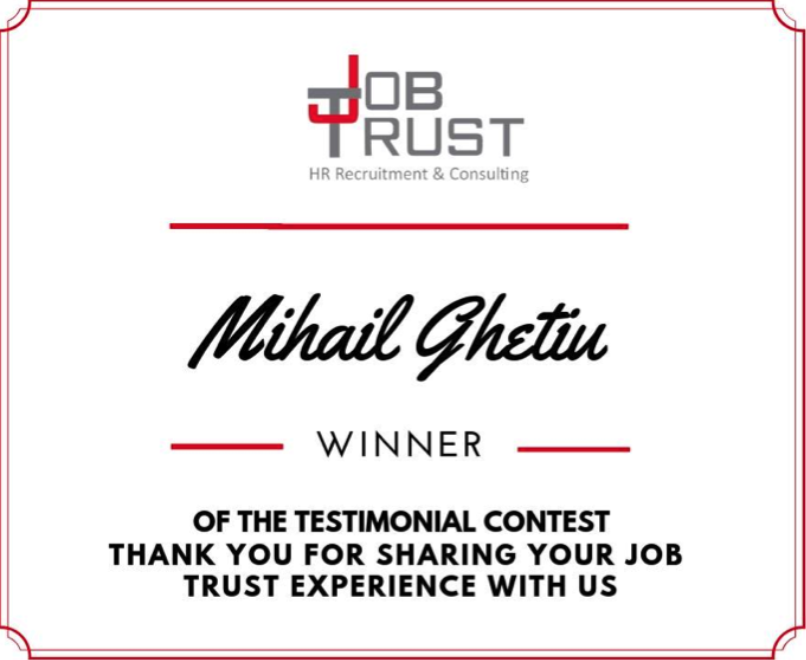 Winner of the 2018 Testimonial contest!
Winner of the 2018 Testimonial contest!
We are thrilled to announce that the winner of our Testimonials contest is Mihail Ghetiu from Universitatea "Alexandru Ioan Cuza" din Iași who is winning a 50euro prize
Thank you very much, Mihail for sharing your Job Trust experience with us and a big thank you to everyone who participated in our contest and helped make it a success!
Below you may see his winning testimonial:
"Working with JobTrust has been an unforgettable experience. Thanks to it, I got the chance to travel to Greece, to visit one of the biggest cities, Thessaloniki. In addition to that, I met a lot of great people from many countries in Europe. The job experience has also been one of the best ones I ever had, helping me to interact with people of different ages and from different places. I can clearly say that it was one of the best summers ever. The friendly people, the clear blue sea, the perfect weather, that's all you need for spending a good time, to combine the useful with the pleasure. I want to thank JobTrust for giving me this opportunity and hope to live an even better experience next year."
Every year, thousands of students from all over Europe choose Job Trust to come and work in one of Greece's finest hotels and resorts. Would you like to be part of this experience?
Apply today and secure a summer job in Greece at one of the best 5* hotels.